CPA Joins President at Labor Day Breakfast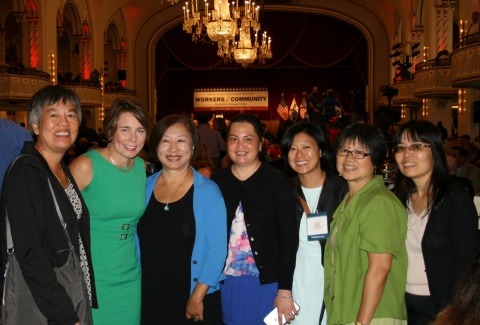 September 11, 2015
CPA

's honorary president Suzanne Lee, and staff members Karen Chen, Lydia Lowe, and Fiona Yu joined home health care workers Lingzhu Cao and Yan Li at the Greater Boston Labor Council's Labor Day Breakfast on September 7, when President Obama came to speak about the need for paid sick days and family leave for all workers. Medical Resources Home Health Care workers are fighting for improved wages and benefits in a union contract since winning their union election this summer.
Obama announced to the packed ballroom at Park Plaza Hotel that he had just signed an executive order to give federal contractors paid sick leave. He called on Congress to pass federal legislation for paid sick leave, telling them to "take a cue from the rest of the world," in which most economically advanced nations provide family and sick leave.
The President also spoke about the importance of unions, joking that "Even [Patriots quarterback Tom] Brady needs a union."  Senators Elizabeth Warren and Ed Markey, Mayor Walsh, and other officials highlighted the fight against economic inequality and the importance of communities and labor working together.
Attorney General Maura Healey spoke about the need to enforce wage and hour laws, announcing the appointment of Cynthia Mark, managing attorney for the Asian Outreach Unit at Greater Boston Legal Services, as the new Chief of the Fair Labor Division.  Mark, a 20-year legal services veteran, is a former staff member of
CPA
and a graduate of Tufts University and Northeastern School of Law.
After the breakfast with the President,
CPA
members and staff joined a rally and march from the Boston Common as part of the Fight for $15.  Marchers highlighted low wage workers' demands for better standards at McDonald's, Primark, and McCormick and Schmick's.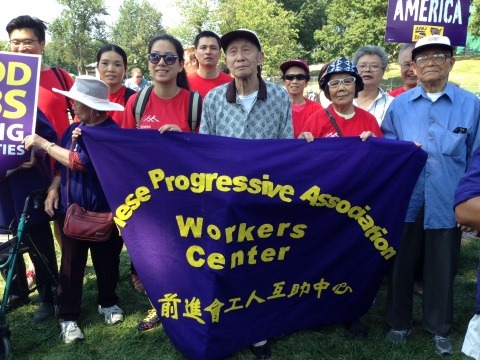 Related Programs