Environmental justice is a central issue for Boston's Chinatown and Chinese-American communities throughout the Greater Boston Area. Too often, communities of color that contribute the least to environmental degradation suffer the worst environmental harms. By fighting for green jobs, community education, climate resilience, transit justice, microgrid technology and air quality protection, we work towards a future that combines environmental protection with community justice. 
Weatherization, Green Jobs & Community Education
Starting in 2009, the Chinese Progressive Association began working with the Green Justice Coalition (GJC) to educate people in the community about climate change and pursue solutions that not only help combat global warming, but also stabilize our communities by reducing utility costs and creating good jobs.  CPA conducted a Community Mobilization Initiative in the Boston Chinese American community, reaching over 1000 residents, educating them about energy efficiency opportunities and ultimately weatherizing 50 units in Boston.  CPA also hosted a bilingual air sealing and insulation training with the International Union of Painters and Allied Trades, employing five community members as weatherization technicians.  The Initiative helped demonstrate the barriers faced by non-English speaking low-moderate income residents and won changes to the statewide energy efficiency plans that allowed better language access, addressed pre-weatherization barriers, increased incentives to low-moderate income families, and provided community level data of who is being served through the programs.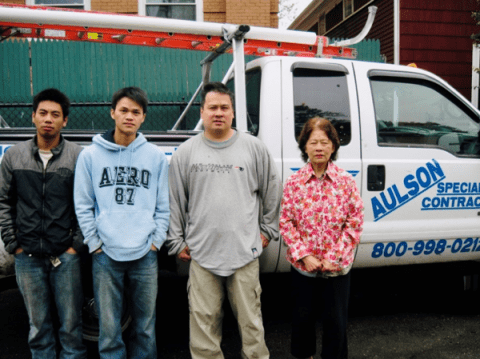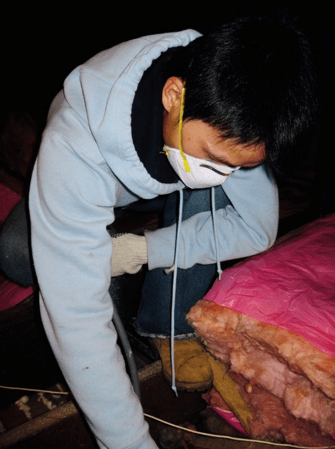 Public Transportation & Transit Justice
As part of the Green Justice Coalition, CPA helped defeat large fare increases for public transit riders and passed state legislation to cap future fare increases and guarantee a $800 million funding package for transportation.  
Now, amid recent fare hikes for the MBTA public transit system, CPA is working with the Green Justice Coalition to push for a low-income fare and more reliable service. Working class, low-income communities often rely on public transportation the most due to the need to travel far to work or necessary services and lack of access to alternate transportation. A recent study published by MIT showed that a discounted fare led to low-income riders taking 30% more trips and particularly more trips to health care and social services. CPA is dedicated to ensuring that all communities have access to reliable and affordable public transportation to help mitigate transportation emissions and give everyone the mobility they need.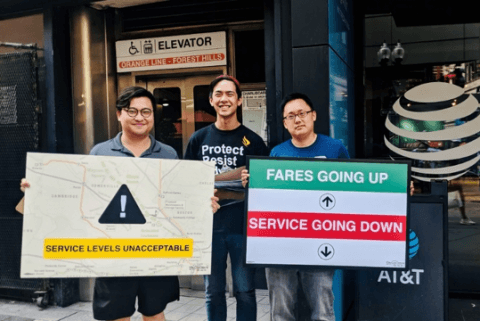 Transportation Emissions & Air Quality
A recently published report by the Union of Concerned Scientists found that Boston's Chinatown has the worst air quality from transportation emissions in all of Massachusetts, and more generally found that Asian-Americans and people of color generally are exposed to more transportation emissions than white residents. Excessive exposure to emissions has been shown to lead to negative health outcomes. CPA works to establish clear evidence of these inequitable environmental and health outcomes and improve air quality as a key issue for both environmental justice and community health.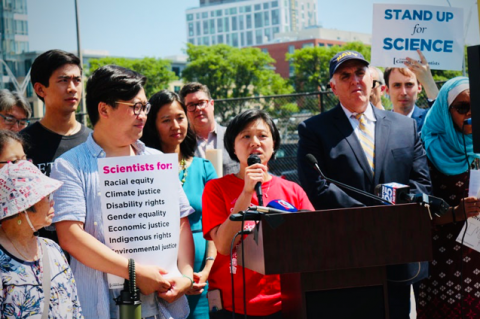 Image by Ling-Mei Wong reporting for Sampan.
CPA partnered in a five-year study with the Community Assessment of Freeway Exposure and Health to study the effects of near-highway pollution on residents' health.  We are currently organizing to use the findings from the study to influence community design and planning.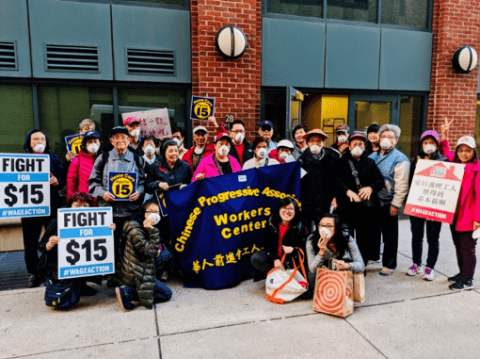 Microgrid Technology & Energy Democracy 
CPA is working with the Green Justice Coalition to plan implementation of community-focused microgrids in Chelsea and Boston's Chinatown. These neighborhood microgrids could provide important reliability as climate change makes energy emergencies a greater risk for communities. In addition, community leaders hope that microgrids will be a cost-effective way of improving environmental health, as there is no need for large infrastructure projects while energy savings and grid revenue may compensate the costs. 
Moving forward, the Green Justice Coalition seeks to continue investigating the feasibility and best model for these community-focused microgrids. We look forward to the possibility of the microgrid creating green jobs and improving air quality in homes, while also tying the microgrid project to affordable, renewable energy like low-income solar.