2020 Year in Review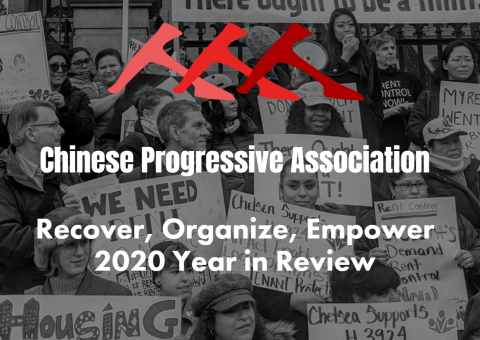 March 22, 2021
In 2020, our fight for racial, socioeconomic, and environmental justice became more important than ever.
While the COVID-19 pandemic intensified the dual crises of the virus and racial violence, the stark inequities impacting our working-class, immigrant communities are nothing new. This year, the Chinese Progressive Association leveraged the relationships, trust, and expertise that we built over the past four decades to quickly respond to community needs. From raising emergency funds for families impacted by COVID-19, to transitioning our 2020 Census and civic engagement work online, to organizing for workers' rights and housing stability, our members, volunteers, partners, and team embraced creative solutions to serve our community in the Greater Boston area.
In this new year, we will continue to organize for an equitable recovery from the pandemic and to continue our decades-long work to build a multiracial movement for racial and economic justice. We are grateful to have you as part of our fight for a more healthy, sustainable, and just future.
Report compiled by San Tran 
Related Programs