Apply for Project AAIYA!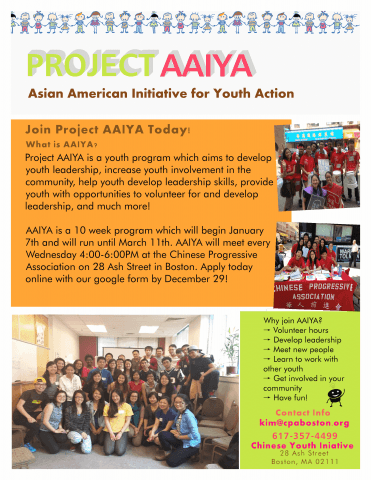 December 17, 2014
Project AAIYA: Asian American Initiative for Youth Action! is Chinese Youth Initiative's 10-week volunteer program that engages high school aged youth in becoming active leaders in Chinatown. We do this by providing social justice knowledge, organizing skills, and real opportunities to make positive change in the community. The program is a blend of educational and activist work that builds youth leadership through direct involvement in the Chinese American community.
Youth will build new skills, meet new people, get involved in the community and have fun! 
Project AAIYA will meet on Wednesdays 4-6PM at the CPA office from January through March. Applications are now available for 2015 cycle! Apply online through this link http://bit.ly/1s4F10x by December 29th.
Contact kim[at]cpaboston.org with questions! 
Related Programs