CHINATOWN S.O.S.! Short-Term Rental Regulation Tour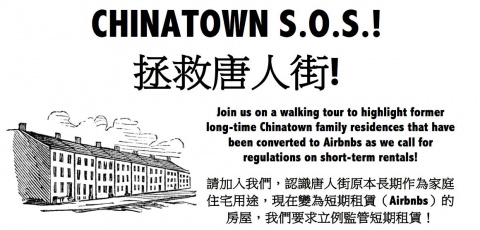 October 6, 2017
On Thursday 10/5/2017, we toured Chinatown with members, residence, coalitions, and elected officials to point out how regulation is needed for short term rentals and properties being flipped for AirBNB housing.   Click HERE for pictures from the event - photo cred to Monique Ching.  Also, we have Live video of the walking tour on our FB - https://www.facebook.com/cpaboston.
See the following Press Release:
Chinatown Airbnb Protest:
Community Demands Short-term Rental Giant Stop Pushing Out Long-term Residents
BOSTON – While Airbnb brings tourists into Boston's historic Chinatown, local residents say the mammoth company along with profiteering landlords, who may be skirting city ordinances, are pushing out local families.
Community Labor United, alongside with Chinese Progressive Association, Massachusetts Affordable Housing Alliance, and the UNITEHERE Local 26 Housing Trust are organizing a march on Thursday in downtown Boston to counter the displacement and gentrification being driven by the ballooning short-term rental (STR) market in Boston. Airbnb is the largest national STR firm followed HomeAway, FlipKey, etc.
Meanwhile, the groups have released a scathing report outlining the impact of STRs on working families in Boston, entitled: "The growth of commercial short-term rentals: How Boston can protect affordable housing and quality of life."
The report and the protest call for more appropriate regulations on short-term rental companies and documents the proliferation of "full-time" STR apartment units, some of which are operating essentially as part of de-facto hotels in potential violation of Boston zoning laws.
Who: Chinatown Community Land Trust, Chinese Progressive Association, Community Labor United, Massachusetts Affordable Housing Alliance, and UNITEHERE Local 26 Housing Trust.
What: Demonstration to protect Chinatown and other communities from AirBnB and other STR companies encroaching
Where: Downtown Boston – 3 PM: Gather @ Quincy School, 885 Washington Street, Boston, 02111, followed by march. Protest arrives at State House outdoor steps @ 4PM
When: 3PM - 4:30PM
Why: The march, which will include stops in Boston's historic Chinatown in front of buildings where residents have been displaced by STR proliferation, is intended to dramatize the destabilizing impact of the growing STR industry.
The march will begin in the front of the Quincy School (885 Washington Street, Boston, 02111) and will continue through the streets of Chinatown; Oak Street, Johnny Court, Hudson Street, Kneeland Street and Washington Street before concluding with a rally and press availability at the Massachusetts State House. The march will feature stories of individuals and families displaced from Chinatown due to STR proliferation.
Local residents who were displaced will be available for interviews. For more information on the event and organizations, please contact:
Michael Liu, Chinatown Community Land Trust 617-877-6161
Lydia Lowe, Chinatown Community Land Trust 617-851-1327
Karen Chen, Chinese Progressive Association 617-953-3669
TOUR SPEAKERS:
Chinatown Tour Emcees
Yu Sin Mok and Wayne Yeh, Chinese Progressive Association
Bi Hua Huang - Tenant displaced from 33 Oak Street, recently sold for $1.75 M
Mei Qun Huang - Tenant displaced from 2 Johnny Court, combination of long and short term rentals
Lydia Lowe, Chinatown Community Land Trust Director - Need to take land out of private market, call for community ownership of public parcel R1
STATE HOUSE SPEAKERS:
Yu Sin Mok, Chinese Progressive Association and Lydia Lowe, Chinatown Community Land Trust
Karen Chen, Chinese Progressive Association Executive Director - Calling for short term rental regulation and inspectional crackdown in Boston, statewide taxation
Mei Qun Huang, Tenant displaced from 2 Johnny Court, combination of long and short term rentals
Darlene Lombos, Community Labor United Executive Director - Release of research report on Boston's short term rental industry
REPORT AVAILABLE FOR DOWNLOAD: http://massclu.org/wp-content/uploads/2017/10/clu_shorttermrental_report_prf7.pdf
Rep. Aaron Michlewitz - Sponsor of proposed legislation to tax short term rental industry statewide
Sen. Joe Boncore - State Senate Chair of Housing Committee
Related Programs