Chinatown/South End Collaborative Graduates Its Inaugural Occupational Skills Training for Supermarket Employment Class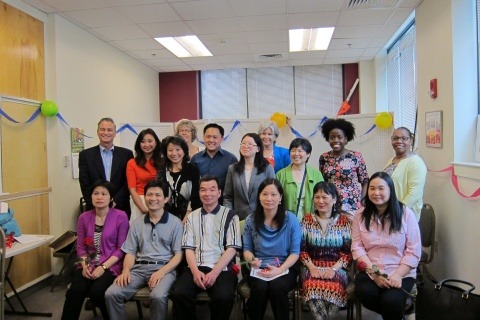 July 7, 2015
The Occupational Skills Training for Supermarket Employment graduated its first class of seven students on June 11, 2015.  The class was provided by the Boston Chinatown Neighborhood Center (BCNC), the Chinese Progressive Association (CPA), BEST Corp., and the Massachusetts Worker Education Roundtable as part of the Chinatown/South End Collaborative.  The program is supported by the Neighborhoods Jobs Trust of the City of Boston.
Students received training in customer service, English relevant to the supermarket and customer service industry and mainstream job search skills such as using computers, interview practice, and resume writing.  Students also received one-on-one job and career coaching as part of the class.  The training lasted 14 weeks and students met Monday through Friday for three hours each day.  The class served low-income immigrants living in Boston.  Henry Wu, graduate of the training, said "Before I only had experience working in Chinese restaurants and bakeries.  Through the class, I learned about American supermarkets and the different products they sell.  Now, I am working at Roche Bros. as a bakery clerk.  I am grateful for the opportunity after being unemployed for two years."
Whole Foods Market and Roche Bros. Supermarkets opened stores in or near Chinatown and South End this year and partnered with the Collaborative to provide industry-relevant materials and input into the curriculum, tours of their new stores, and guest speakers for the class.  Graduates will receive interviews with the two companies.  Four students have already been hired in the customer service and supermarket field with three of them working at the new Roche Bros. Downtown Crossing store.
The next cycle for the Occupational Skills Training for Supermarket Employment will begin August 17th and will run for 14 weeks Monday - Friday, 9:30 am - 12:30 PM.  Students can go to the Chinese Progressive Association at 28 Ash Street in Boston Chinatown to apply by July 31.
Related Programs