CPA Celebrates the Lunar New Year with the Mayor and other distinguished guests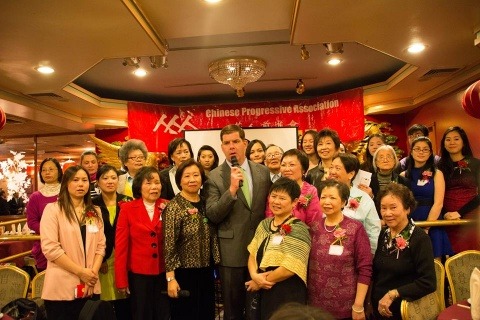 March 4, 2014
On February 28, CPA celebrated the Lunar New Year with over 350 guests at the China Pearl Restaurant.  CPA was joined by distinguished guests such as Mayor Marty Walsh, State Treasurer Steve Grossman, State Representative Aaron Michlewitz, At-Large City Councilor Ayanna Pressley, and District 8 City Councilor Josh Zakim.

Guests were treated to a lion dance performance from Wah Lum Kung Fu and the Right to the City Flash Mob peformed by Project Hip Hop and CPA's Chinese Youth Initiative.  The banquet commemorated the Chinese Youth Initiative's 20th Anniversary, as well as highlighted CPA's work to stabilize Chinatown.
Felix Arroyo, Charlotte Golar Richie, and John Barros were presented with the Unity in Action Award for their role in last year's municipal election bringing together communities of color for a common progressive agenda.  At the event, Sunshine Travel Workers were also honored for standing up for their rights when their boss did not pay them overtime, forced them to pay a deposit when they were hired, and charged a cleaning fee for the buses they drove.  Finally, Siu Ching Tsang was honored with the Unsung Hero Award for his role in testifying when his voting rights were violated and fighting for bilingual ballots.