Tenant & Community Groups Highlight Displacement Crisis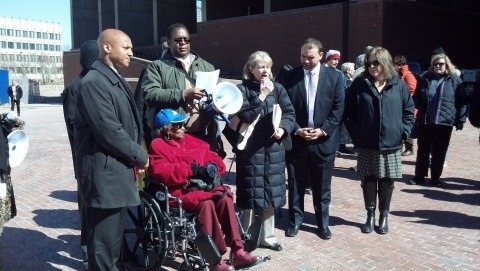 March 18, 2014
Highlighting the crisis of low-income families at risk of displacement and high homeless numbers, tenant, homeless and community groups are asking Mayor Martin Walsh to increase affordable housing resources and earmark more funds to keep working-class and lower income residents in their homes and in the City.  Over 100 residents attended Speak-Out about the housing crisis and delivered a petition to the Mayor urging him to expand the Inclusionary Development Program (IDP) and target resources to neighborhood stabilization.
Residents from the Fenway, Chinatown, Roxbury, Jamaica Plain and Dorchester shared their stories and delivered a petition with over 900 signatures to the Mayor, urging him to expand the Inclusionary Development Program (IDP) and to direct current and future funds from that program as well as City-owned land to house Boston's low-income and working class residents in order to stabilize the communities. Cabinet Chiefs, Sheila Dillon, Chief of Housing and the Department of Neighborhood Development, John Barros, Chief of Economic Development, Felix Arroyo, Chief of Health and Human Services, and Joyce Linehan, Policy Director for Mayor Walsh came down to City Hall plaza to accept the petitions from the president of Massachusetts Senior Action on behalf of the Coalition and pledged to work with the groups on examining current and other possible policies that address the housing and the displacement crisis affecting Boston residents and neighborhoods , including exploring potential changes to the City's Inclusionary Development Policy.
Organizers from the Boston Tenant Coalition, Right to the City, Fenway Community Development Corporation and others cited a recent study that named Boston the most rapidly gentrifying city in the country as well as the fact that over 35,000 low income families and individuals are paying more than 50% of their income on rent, placing thousands of Bostonians at risk of homelessness.
"If we want to keep Boston as a vibrant world class city, we ought to help keep existing working families and individuals on low or fixed incomes in their communities and homes.  Boston's Inclusionary Development Funds are a tool to support development of affordable housing." Says Darnell Johnson of Right to City Boston
Chinatown organizers cited ten different buildings where tenants are facing eviction, and activists noted the severe impact of luxury development on destabilizing their neighborhood.
"The IDP funds have helped to build affordable housing in lower costs neighborhoods throughout Boston. Unfortunately, the manner in which the Policy has been implemented by the BRA has unintentionally lead to economic segregation in the Fenway and Chinatown, where only the rich can now afford to live. We need an improved IDP to address these new conditions", said Dharmena Downey, Executive Director of Fenway CDC.
The Inclusionary Development Program was created by former Mayor Menino's Executive Order and requires that market-rate and luxury housing developers make 15% of the proposed units on site affordable, or build them off site or pay approximately $200,000 (per unit not built) into an affordable housing fund. Community leaders say that this fee is far from what it costs to create an affordable unit and the on-site "affordable" units are in fact unaffordable to most Boston residents.
The group is calling for expansion of the Inclusionary Development Program and to direct current and future funds to low-income and working class  residents Specifically: 1) increase the number of affordable units that a developer must build on site or ; 2) increase developers' "buy-out" fee to cover the true costs of developing an affordable unit; 3) target affordable units and funds toward tenants who are most in need (below 80% of Area Median Income, or $75,520 for a family of four); 4) target a portion of those funds to the neighborhoods most affected by this luxury development; and 5) Use Boston and neighborhood median incomes as a standard for allocating affordable housing resources.
Advocates called for examination of Boston income data rather than simply the Area Median Income figures utilized by HUD, which includes data from some 120 cities and towns, many of which are high-income suburbs.
 "We have tenants from ten different buildings in Chinatown right now who are facing the risk of displacement due to luxury development, escalating rents, ownership turn-over, and lack of real affordable housing," said Karen Chen of Chinese Progressive Association
Dwayne Tyndall from Fair Housing Center of Greater Boston spoke to the fair housing implications of the policies.  "It is essential that the City of Boston use the resources provided by this policy to develop housing for those of us with the lowest incomes because they are the people most vulnerable to changing market forces. This policy also plays a major role in helping the City fulfill its obligations under the Fair Housing Act to fight housing discrimination and build a more inclusive city, as clearly stated in the City's Analysis of Impediments to Fair Housing Choice. We call on the City of Boston to do everything in its power to improve, upgrade and extend its Inclusionary Housing Policy".
Kathy Brown of the Boston Tenant Coalition, further adds "We see this as a serious fair housing issue when no median income Black, Latino, Asian, or tenant can afford the 'affordable housing' with the IDP units and some of the proposed uses of the fund
The Housing advocates look forward to offering proposals to the City on how these IDP funds can be used to help further fair housing in Boston and help address the issue of displacement, helping those families and individuals most at risk and are hopeful that the new Mayor and the administration will work with the coalition. "We have several additional concrete ideas of how the City could utilize its affordable housing funds & city land to help house the City's homeless, near-homeless, and working class residents," said Brown of the Boston Tenant Coalition. "We look forward to working collaboratively with the new administration to realize these goals"
Related Programs