Thank You for Celebrating the Lunar New Year with Us!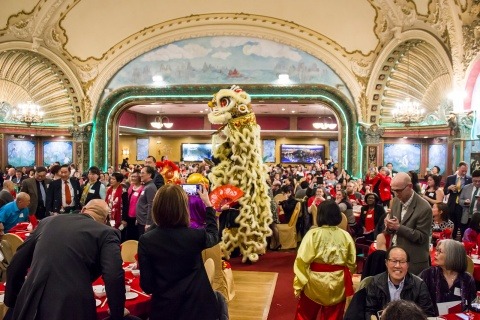 July 8, 2019
Thank you all for coming to our Lunar New Year Banquet and making it a success.  We had over 400 guests and raised over $40,000!
Congratulations to the Pioneer for Justice Award winner, Congresswoman Ayanna Pressley.  Ayanna Pressley is the first woman of color to represent the 7th Congressional district and have stood for the most people impacted by issues to have a seat at the table.
Congratulations to the women leaders of the Asian Pacific American Labor Alliance - Massachusetts Chapter "Bring Your Own Chair" Award.  The leaders of APALA inspired us by their struggle for worker rights and dignity, successfully leading the fight for a fair contract with Marriott Hotels and Medical Resources Home Health Corporation.
Thank you to our sponsors Metropolitan Building Trades Council, Beacon Communities, Plymouth Rock Foundation, IBEW Local 103, Santander Bank, Massachusetts Nurses Association, Tufts University, Massachusetts Teachers Association and UNITE HERE! Local 26
We look forward to working together towards equality, justice and democracy in 2019.  When we fight, we win!