Thank You for Making Our 10th Annual Bike-A-Thon a Success!
June 9, 2014
Thanks for making our 10th Annual Chinatown Bike-a-thon a success!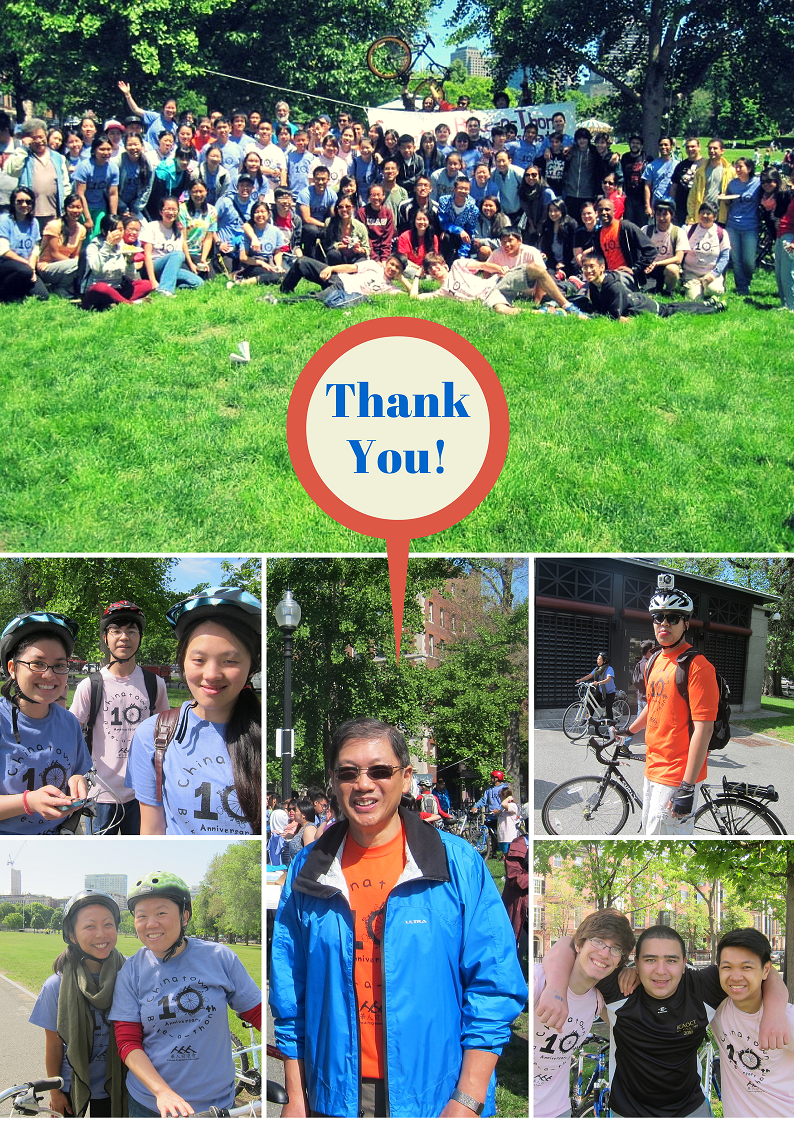 With your help we have exceeded last year's fundraising totals!
Its not too late to donate to the 20th Anniversary of Chinese Youth Initiative.
Please click HERE to make a donation online or mail to the CPA office: 28 Ash St, Boston, MA 02111
We hope everyone enjoyed their week. We want to take a moment and THANK YOU from the bottom of our hearts for joining in the 2014 Chinatown Bike-A-Thon. It means so much to us to see our community come out on an early Saturday morning to ride in support of youth leadership.
We've raised over $15,000 and there are still a lot of open pledges to be collected! This is more than what we raised last year and it starts with the grassroots fundraising efforts from you. All you support will go to growing our youth leadership program and we are super appreciative.
If you have received additional pledges, or you want to continue to give more, you can drop by the office with the funds, you can mail us a check, or you can give ONLINE.
A special thanks to one of our founding members Pong Louie. We are truly grateful that Pong started this event 10 years ago. It will take all of us to keep building it to make the 2015 Chinatown Bike-A-Thon even better and for 10 more years to come!


CYI

Coordinator Kim Situ kicking off the 2014 Bikeathon

Current
CYI

staff and 20 years of alumni get together for a group shot!
SPECIAL

SHOUT

OUTS

:

To our sponsors: Tufts Medical Center, South Cove Community Health Center, and Eastern Bank.

Also, to all the wonderful food donations from our local neighborhood restaurants.

To our big individual funders: Peter Wu and Hai Wu, Karen Chen, Andrew Lin, Mark Liu, Huong Phan, Kim Situ, Shirley Mark, Michelle Yee, Yu Chen, Pong Louie and Dora Hui!

To our top Team Fundraisers: Operation Linsanity, Brookline Ridazzzz and GK Fun & Fitness Finally: To the 2014 Bike-A-Thon planning committee, all the donors, and the volunteers who made it all possible!

Organizing Director Karen Chen is super excited for the 10th
CYI

BI

ke-a-thon!

And
THANK

YOU

to our amazing volunteers!

 

 
Related Programs